They removed my points and rank in the CRL 2021 and 2022 in my API perfil Trainer Mario⚡️ #P8C88LJG0 | Player Profile in Clash Royale - RoyaleAPI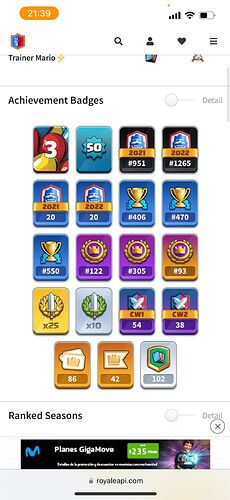 before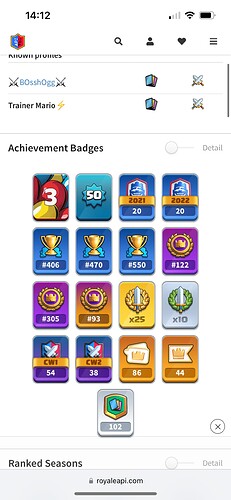 after
No, we can't. Those badges were linked to someone else's profile, so they won't show up in yours.
I think you mean my other Twitter, perfect_cr because the account and the twitters are mine, if I put my old twitter will my badges return? Because it seems strange to me that the account and my networks take away my badges saying they belong to someone else
No, sorry, we have enough data to consider this decision final; badges won't be relinked to this account.
Quiero eliminar la cuenta de bosshog de mi perfil al igual que el canal de YouTube
Trainer Mario⚡️
#P8C88LJG0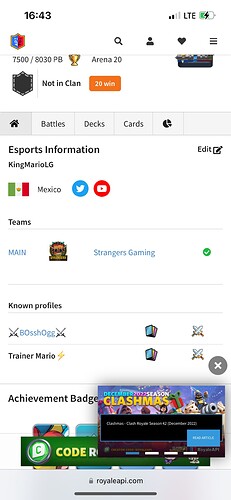 Hola Alpi, te envíe información que me solicitaste hace unas semanas por algunos cambios de mi cuenta principal para añadir mi cuenta secundaria y otras cosas, te las envíe por correo-discord y twitter pero no obtuve respuesta, por lo cual creo que la única forma de comunicarme contigo es por este medio de para pasarte toda la información necesaria como Fotos, Token ID de cada cuenta y la explicación, y que este tópico se vuelva privado para ambos.
gracias!!
Si quieres hablarme por privado hazlo también por aquí, solamente tienes que darle al botón de "Message"