Hello!
I was looking for a good deck to use on my level 1 account and had some ideas that might be useful to improve deck search.
Suggestion #1:
Since level one is an integral part of the ladder unlike Party and Challenge modes, I think it could be useful to add a way to set a trophy range in Level One deck search like in classic Ladder (see pictures), so it would be easier to find decks that work well in higher leagues.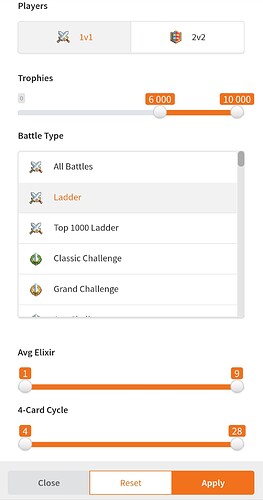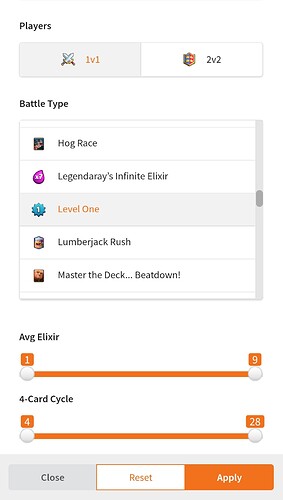 Suggestion #2:
I guess that has already been suggested, but what about a "real-time" level 1 leaderboard ?
Suggestion #3:
Update trophy ranges. For example, you can still search for 0-4000 trophies battles, but you can't search for current Grand Champion (7300), Royale Champion (7600) and Ultimate Champion (8000) leagues.
Thanks for reading!


Sorry if I made some language mistakes or if it was difficult to understand =)
Edit: (Note) For suggestion #3, you can actually search for these new trophy ranges by editing links.
For example, in the link below, you can set custom trophy ranges by replacing "0" and "10000" by any number you want, but it would be easier if we could do it directly with the website's filters!