Como desvincular contas no royale api?
Please give details about what you are trying to "unlink".
Player profile URL (link)
Info
Generally speaking you would fill out esports profile edits by clicking on the EDIT link on the top right corner.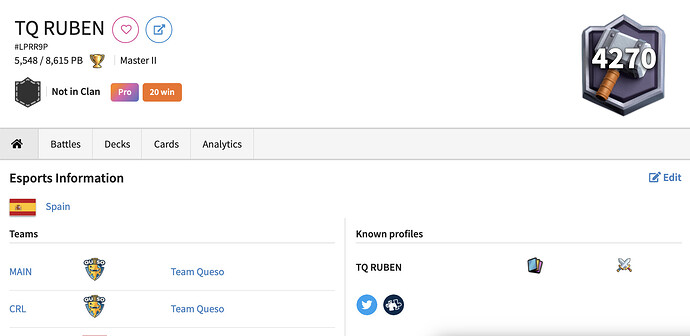 @bielvinis Are you asking to unlink something from your profile? if so, you will need to provide your player tag and what you want to edit. We can't help you with generic questions like this.
my nickname is SNG Bielvinis, # 2Q0CQJQC, where there is one more account linked to my name, I wanted you to remove that other account
@alpe123 will need to look at it to see if that's possible https://royaleapi.com/player/2Q0CQJQC — for example, if the account was recently used to compete in an esports event, we don't remove them and you'll need to wait 2-3 months before submitting a request.
Hi Bielvinis, we don't hide accounts that are used or have recently been used in competitive events. After the account hasn't been active in events for 2+ months you can request it again and we'll remove it.
(in this case: Gamersfy GEMS League)
but the account that I want to unlink, is more than 2 months without playing any championship, the account that I am referring to that I want to unlink is KnoX, where I will only be with SNG Bielvinis on my profile
Sorry, as I said, it's listed as participant in GGLE.
You can request this again 2 months after the event concludes.
I don't think you understand what I want, where I can talk to you better and show you the pictures of what I'm saying
You can send me a private message if you want
i send message in your dm