Thanks for the great work with RoyaleAPI.
Since CW2 started, I used to copy the War - River Race information and paste it into my Excel with clan members data when we ended the race. That used to work great.
But since last week something has changed in the table formatting and when I paste the table into Excel it doesn't paste well. Before there would be one row for each member with all the fields. Now it pastes all the fields of each member in the same column.
Before:

After: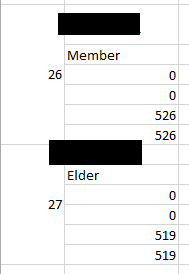 The War - Analytics table still copies/pastes well.
In the old CW1 I liked to use the CSVs, but if they are not available, at least being able to copy/paste would be of great help!
Thanks a lot!