Hey TrailBlazEsport is now verified but who have u given the owner role. Who can modify its players…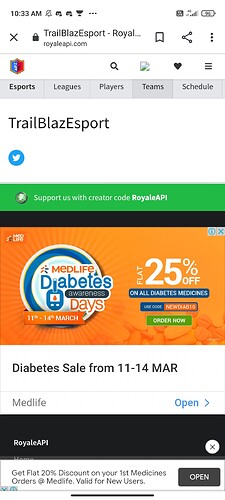 The team isn't verified, and no one has been accepted to manage the team yet.
So when will it be verified. Its been more than 45 days since we submitted the form
That probably means that the submission was rejected
But why we filled all details.so now do we have to fill it again?
It seems accepted but whoever made the submission didn't follow up with the required information
No he wasnt contacted to five up the details
So can we follow up now??
He was, please make sure you check your Discord messages
Sorry if he missed. Can u plz dm him again and can u confirm that his name is TB| bathri
He replied u back sorry he missed it can u plz continue the verification plzz and so sorry
He has sended u the TrailBlazEsport TrailBlazEsport background logo in png format as well. Am sorry for past that he missed.I assure u this will not happen again.plz reaaly sorry.can u plz update it
Please be patient, we'll get back to him on Discord whenever we have time.
Its been more than a month now. So can u plz now help plz