Can you list all the achievements with the associated prizes? it's quite possible that you have played in a tournament where the prize list is not known. Either way, providing info will go a long way. Thanks!
Week2 Day2 600 $
Week3 Day1 300 $
Week3 Day2 400 $
Week4 Day1 300 $
Week4 Day2 800 $
Week5 Day1 200 $
Finals Team Japan 2400 $
Finals Individual 800 $
Total 5800 $
This is the amount I actually received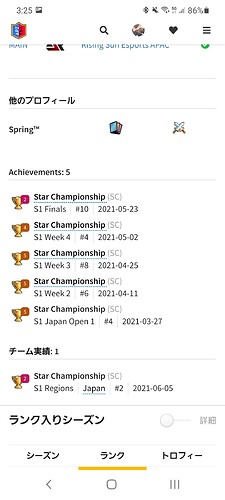 These are all Star Championship Ship prizes

cc @alpe123
Btw, the individual event leaderboard won't contain the Team Japan earnings because that is a team event. The team event earnings are listed separately. Still there might be some discrepancies and Alpe will look into it.
OK. Thank you. I wait for the result.
Ok, it seems we are missing the $300 bonus prize for keeping your star position. I'll look into it whenever i have time
Ok, I hope it will be improved.
Thank you for supporting.
I've looked a bit deeper into the issue and found this reference in the rulebook:
If a Player participates in the Star Pyramid weeks as a Star consecutively, the
Player will receive an additional bonus of 300 USD per week(not including the
first week).
If I understand this correctly, a player that competes in a week for the first time is a Challenger, and a player who returns from a previous week is a Star. So this would mean, for example:
Week 3: Player joins as Challenger and wins his spot.
Week 4: Player is now a Star and wins again, keeping his spot. 1st week as a Star.
Week 5 : Player is a Star for the 2nd time, so he receives the $300 bonus.
Is this how it works?
①If the star player wins on day 1, gets $300 bonus.
②If the challenger wins on day1, just gets a star player position.
③The player who loses on day 1 gets a $ 200 bonus (whether challenger or star player).
Week2 Day1 get a position (②)
Week2 Day2 $600 (Pyramid)
Week3 Day1 $300 (①)
Week3 Day2 $400 (Pyramid)
Week4 Day1 $300 (①)
Week4 Day2 $800 (Pyramid)
Week5 Day1 $200 (③)
Finals Team Japan $2400
Finals Individual $800
Total $5800
So it's actually written as $3400.
(5800-2400=3400)